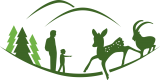 The Park, Restaurant and Shop are open from
May 1st to September 30th, 2020:
– May, June and September: every day from 10 am to 6 pm except Monday. Open Friday 1st May, Friday 8th May, Thursday 21st May (Ascension day),  Monday 1st June (Whit Monday)
– July and August: every day from 9.30 am to 7.30 pm 
Entrance fee
Adults: €8
Children (4 to 15 year old): €5
Reduced fee: groups (from 15 persons, reservation required), disabled persons, and also for the brave who climbed on foot or by bike from the valley ! (Chamonix or Les Houches)
Loyalty card available at the park reception
Planning my day at the park
Let's start out with a short climb
Park Merlet is located in the mountains and the parking lots are situated between 300 m and 1000 m from the main entrance. At a leisurely pace you will need between 10 and 30 minutes to reach the entrance to the Park.
Please be aware that in August the park is very popular and the parking lots can be quite crowded.  
Followed by a leisurely hike
Allow 2 to 3 hours. The visit is self-guided with two proposed routes. With the shorter route (1 hour) you will get to see most of the animals. This trail is fairly flat and easily accessible to pushchairs. However, enthusiasts often stay much longer to explore the stay-in-shape trail and discover all the animals and corners of the park.
You can enjoy a picnic in the friendly picnic area situated outside the park to avoid disturbing the wildlife. In the shade or in the sun, but always with a view!
Remember to stamp your hand on the way out so that you may re-enter the park at your leisure.
Many benches are available along the trails and you will find some home-made sun loungers at the 'Roche à Soupla' and panoramic viewpoint.
The altitude airfield also offers a large flat surface where you can enjoy a lie down in the grass.
A visit with or without animations
Fun and educational themed activities are found along the trails, including for example: winter, predators, ibex, marmot, high altitude airfield etc.
At each spot there are fun things to learn for both children and grown-ups. Use your smartphone and discover all the information.
Information available in 4 languages.
La visite guidée sur votre téléphone
Tout Merlet est raconté sur nos pages "votre guide sur place" : l'histoire, la montagne, les animaux…
Sortez vos smartphones !
From early July to end of August (French school holidays) animations are proposed in the afternoon in the animations area.
Free – 30 minutes.
The schedule of events can vary depending on the weather conditions and number of visitors. Information on the events of the day is displayed at the entrance to the park
An exhibition and video projection hall is also available to learn more about the park and its animals. It is also the ideal place to take shelter if it starts to rain.
Different approaches to Merlet