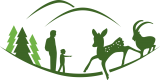 Persons with reduced mobility
The park is located in mountain area, 1500 meters above sea level. It is important to note that there is no parking space available in front of the park entrance gate.
On site, access to the terrace of the restaurant is flat and adjoining toilets.
For people with reduced mobility and wheelchairs, we recommend that you make a quick drop in front of the entrance gate and go back to park the car on a lower parking lot. People in wheelchairs must be accompanied and more athletic can travel on a large part of the circuit "easy".
However, since the site is in a natural mountain environment, the slopes of the roads can not be consistent with the movement of wheelchairs. Below is the accessibility detail by building, course and services.
Accessibility of the establishment