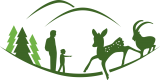 photo, video and 360° view
Perched at an altitude of 1530 m, above the ski resort of Les Houches, Merletanimal park is a great playground for amateur and professional photographers.
It also offers one of the most beautiful view-point on the Mont-Blanc mountain range. Discover the view from the parkand explore the 360° view.
Our gallery presents some of our splendid photos of animals. These were taken by our trainees under the watchful eye of professional photographer Gilles Petetin, orby visitors who entered their pictures for our photo contest.
Somewhat more unusual photos are presented in the second slideshow.
Samples from DVD 'Le Bonheur partagé'
Thierry Sicoli is a musician who has a passion for nature. He has made a splendid DVD about the animal park. This poetic composition conveys all the emotions one can feel when visiting Merlet animal park.
Backstage of a truly exceptional site
The team at Merlet Animal Park have also made a documentary film.
A job, a passion, a human-sized undertaking, attached to pastoral traditions, they cover every aspect in the documentary!
Discover the backstage areas and aspects of Merlet Animal Parkin this 35 m DVD (in French).