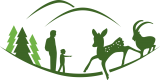 The most beautiful terrace of the Valley
Beware: the restaurant is open, with restrictions, according to security measures. Reservations advised. Face mask obligatory to enter retaurant and souvenir shop.
Marc, Caro and their friendly team are pleased to welcome you to their panoramic terrace or in their cosy indoor restaurant room. You can also enjoy refreshments and local specialities. Reservation recommended in July and August
Tel : +33 6 07 87 81 76
Sample of dishes on the menu
Home-made specialities (croûtes au fromage, with cheese or mushrooms) €17.50
Fondant d'Arly: €22
Tomato Tartiflette: €17.50
Kids menu: €10
Mountain platter: €17
Cesar salad : 16,50€
Charcuterie platter in the afternoon : 15,00€
Desserts: ice creams, pastries,
café gourmand assortment: between €3 and €8.5
Service 11.45 am-3 pm in July and August
Reservation possible on site or by phone between 9 am and 11 am (Please note that we do not accept reservations via text message or answering machine)
You table will be reserved until 12.15 pm.
We do not serve pitchers of water as the water available is not drinkable.
Payment by cash, cheque or bank card from €8. We do not accept vouchers such as 'tickets resto' or 'chèques vacances'.
You will need to purchase a ticket to enter the park in order to access the restaurant

Before you book your table, reserve your entry slot for the park.

If you wish to have lunch at 12:00, book the entrance window before the meal (11:00-12:00)
Welcome to the souvenir shop
Located in the same chalet as the restaurant, the shop proposes a wide range of souvenir items. Cuddly toys, jewellery, postcards, table mats, keyrings, decorative items, etc.
You will also find a short guide on Merlet Park and a colouring booklet, some DVDs and a commemorative book published for the 50th anniversary of the park 'Merlet, quelle est donc ta magie?' (details hereunder)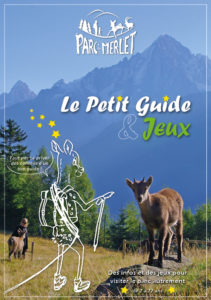 Very educational, this "Little Guide" of 40 pages offers a track game in the park and presents at each stage the animals of the park in detail, the history of the site and other information about wildlife and mountains. Many illustrations and games for children from 7 to 77 years old! If you find the mystery word by solving all the puzzles, a surprise awaits you at reception!
On sale at the park reception – 5,00 €
The 2 booklets bought together are at 7 €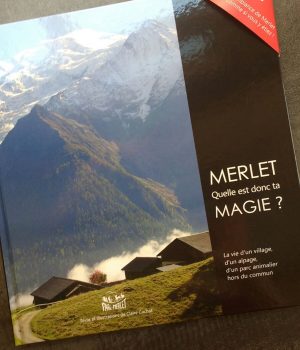 And why not this playbook, exclusive to the Merlet Park, for children from 4 to 12 years old.
On sale at the park reception – 4,00 €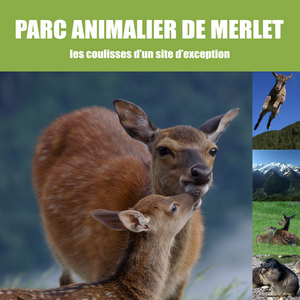 "Behind the scene of an exceptional site" DVD
A unique documentary, both educational, full of humor and beautiful landscapes. You will discover behind the scenes of the park: a job and a lifestyle out of the ordinary, related to animals, pastoral traditions through the seasons.
To discover with your family or even at school! As a bonus, a short film shot in 1974 featuring Grandfather Cachat and "his" chamois.
Watch an excerpt on the video page
On sale at the shop and at the reception of the park also – 9,00 €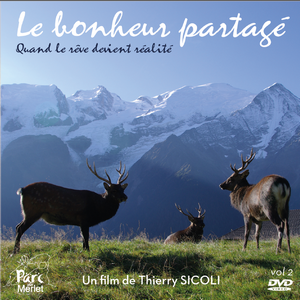 "When the dream becomes reality" DVD
"Shared happiness"
All lovers of nature, contemplatives, poets or musicians, young or old will spend a moment of great serenity.
Thierry Sicoli was inspired by the atmospheres of Merlet to compose and play himself this music of beauty … We learn to listen and admire nature simply …
Watch the trailer on the video page
On sale at the shop and at the reception of the park also – 9,00 €